Carry On At Your Convenience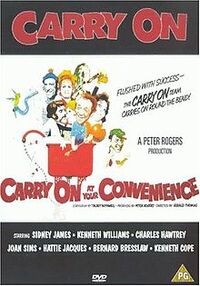 Director(s)
Gerald Thomas
Writer(s)
Talbot Rothwell
Release Date(s)
December 1971

Carry On at Your Convenience, released in 1971, is the 22nd film of the Carry On series and was the first box office failure of the series. The failure has been attributed to the film's attempt at exploring the political themes of the trade union movement, crucially portraying the union activists as buffoons. This apparently alienated the traditional working-class audience of the series. The film, known as Carry On Round the Bend outside the United Kingdom, did not return full production costs until 1976 after several international and television sales. The film features regulars Sid James, Kenneth Williams, Charles Hawtrey, Joan Sims, Hattie Jacques and Bernard Bresslaw. It features Kenneth Cope in the first of his two Carry On appearances.
Cast
Ad blocker interference detected!
Wikia is a free-to-use site that makes money from advertising. We have a modified experience for viewers using ad blockers

Wikia is not accessible if you've made further modifications. Remove the custom ad blocker rule(s) and the page will load as expected.