Carry On Behind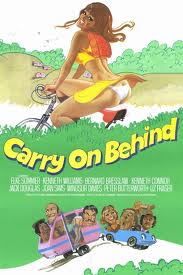 Director(s)
Gerald Thomas
Release Date(s)
December 1975

Carry On Behind is the twenty-seventh Carry On film and was released in 1975. The film was the first not to feature Sid James since Follow That Camel seven years previously. It was also the first not to be scripted by Talbot Rothwell since Carry On Cruising 13 years previously. James was busy touring in a play whilst Rothwell's health prevented him from writing. The regular actors present are Kenneth Williams, Kenneth Connor, Jack Douglas, Joan Sims and Peter Butterworth. Carry On Behind was the final picture in the series for Bernard Bresslaw (in his 14th appearance) and Patsy Rowlands (in her 9th appearance). This was Elke Sommer's only appearance in a Carry On and the first of two entries in the series for Windsor Davies.
Cast
Ad blocker interference detected!
Wikia is a free-to-use site that makes money from advertising. We have a modified experience for viewers using ad blockers

Wikia is not accessible if you've made further modifications. Remove the custom ad blocker rule(s) and the page will load as expected.