Carry On Camping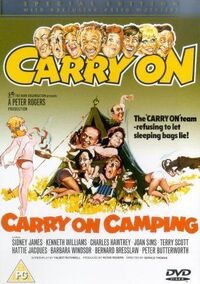 Director(s)
Gerald Thomas
Writer(s)
Talbot Rothwell
Release Date(s)
February 1969

Carry On Camping is a 1969 comedy film and the seventeenth Carry On film. It features series regulars Sid James, Kenneth Williams, Charles Hawtrey, Joan Sims, Terry Scott, Hattie Jacques, Barbara Windsor, Bernard Bresslaw and Peter Butterworth.
Cast
Michael Nightingale as Man in cinema
Sandra Caron as Fanny
George Moon as Scrawny man
Valerie Shute as Pat
Elizabeth Knight as Jane
Georgina Moon as Joy
Vivien Lloyd as Verna
Jennifer Pyle as Hilda
Lesley Duff as Norma
Jackie Pool as Betty
Anna Karen as Hefty girl
Sally Kemp as Girl with cow
Valerie Leon as Store assistant
Peter Cockburn as Commentator
Gilly Grant as Sally G-string
Michael Low as Lusty youth
Mike Lucas as Lusty youth
Ad blocker interference detected!
Wikia is a free-to-use site that makes money from advertising. We have a modified experience for viewers using ad blockers

Wikia is not accessible if you've made further modifications. Remove the custom ad blocker rule(s) and the page will load as expected.