Carry On Cleo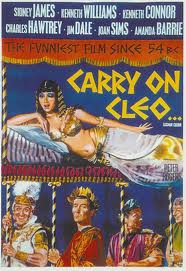 Director(s)
Gerald Thomas
Writer(s)
Talbot Rothwell
Release Date(s)
November 1964

Carry On Cleo is the tenth film in the Carry On film series and was released in 1964. The website ICONS.a portrait of England cites the Carry On films as iconic of British cinema, and describes Carry On Cleo as "perhaps the best". Regulars Sid James, Kenneth Williams, Kenneth Connor, Charles Hawtrey and Jim Dale are all present and correct. Connor made his last appearance until his return in Carry On Up The Jungle six years later. Joan Sims returned to the series for the first time since Carry On Regardless three years earlier. Sims would now appear in every Carry On up to Carry On Emmannuelle in 1978, making her the most prolific actress in the series. The title role is played by Amanda Barrie in her second and final Carry On. Along with Carry On Sergeant and Carry On Screaming, its original posters were reproduced by the Royal Mail on stamps to celebrate the 50th anniversary of the Carry On series in June 2008.
Cast
Ad blocker interference detected!
Wikia is a free-to-use site that makes money from advertising. We have a modified experience for viewers using ad blockers

Wikia is not accessible if you've made further modifications. Remove the custom ad blocker rule(s) and the page will load as expected.