Carry On Constable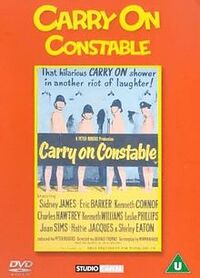 Director(s)
Gerald Thomas
Release Date(s)
February 1960

Carry On Constable is the fourth Carry On film. It was released in 1960. Of the regular team, it featured Kenneth Connor, Kenneth Williams, Charles Hawtrey, Joan Sims and Hattie Jacques. Sid James makes his debut in the series here, while early regulars Leslie Phillips, Eric Barker and Shirley Eaton also turn up, although Phillips did not appear again in the series for 32 years. It was the first "Carry On..." film to include some nudity with Connor, Hawtrey, Williams and Phillips baring their behinds during a shower scene.
Constable
'Ello, 'ello, 'ell, what's all this then? Staff at a cop shop have been struck down by a flu epidemic, to the annoyance of stressed-out Sergeant Wilkins (Sid James). His inept superior (Eric Barker) is threatening to have him transferred and with a bunch of raw new recruits on board, the pressure is pilling up. Will the rookies bring home the bacon or are they as incompetent as they seem?
Cast
Ad blocker interference detected!
Wikia is a free-to-use site that makes money from advertising. We have a modified experience for viewers using ad blockers

Wikia is not accessible if you've made further modifications. Remove the custom ad blocker rule(s) and the page will load as expected.