Carry On Dick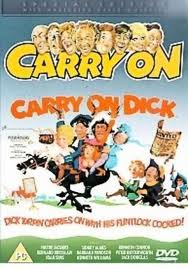 Director(s)
Gerald Thomas
Writer(s)
Talbot Rothwell
Release Date(s)
July 1974

Carry On Dick is the 26th Carry On film. It was released in 1974 and marked the end of an era for the series. It featured the last appearances of Sid James (after 19 entries in the series) and Hattie Jacques (after 14 entrie in the series) although both would make a further appearance in the Carry On Laughing TV series. It was also the 20th and final Carry On to be scripted by Talbot Rothwell, and Barbara Windsor's final acting role in a Carry On film, although she would co-present That's Carry On! (a film compilation) three years later. Other regulars in Carry On Dick were Kenneth Williams, Bernard Bresslaw, Joan Sims, Kenneth Connor, Peter Butterworth and Jack Douglas. The story is based on the Dick Turpin legend and features Turpin (James) as an antihero, attempting to evade capture by the authorities.
Cast
Ad blocker interference detected!
Wikia is a free-to-use site that makes money from advertising. We have a modified experience for viewers using ad blockers

Wikia is not accessible if you've made further modifications. Remove the custom ad blocker rule(s) and the page will load as expected.