Carry On England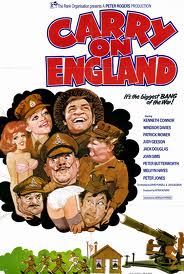 Director(s)
Gerald Thomas
Writer(s)
David Pursall
Jack Seddon
Release Date(s)
October 1976

Carry On England is the 28th Carry On film. It was released in 1976 and featured Carry On regulars Kenneth Connor, Jack Douglas, Joan Sims and Peter Butterworth. It was second and final Carry On film for Windsor Davies, Diane Langton, and Peter Jones, while Patrick Mower, Judy Geeson and Melvyn Hayes make their only Carry On appearance. It was followed by Carry On Emmannuelle in 1978.
Cast
John Carlin as Officer
Vivienne Johnson as Freda
Michael Nightingale as Officer
Jeremy Connor as Gunner Hiscocks
Richard Olley as Gunner Parker
Peter Banks as Gunner Thomas
Richard Bartlett as Gunner Drury
Billy J Mitchell as Gunner Childs
Peter Quince as Gunner Sharpe
Paul Toothill as Gunner Gale
Tricia Newby as Bombardier/Corporal Murray
Louise Burton as Private Evans
Jeannie Collings as Private Edwards
Barbara Hampshire as Private Carter
Linda Regan as Private Taylor
Barbara Rosenblat as ATS girl
Ad blocker interference detected!
Wikia is a free-to-use site that makes money from advertising. We have a modified experience for viewers using ad blockers

Wikia is not accessible if you've made further modifications. Remove the custom ad blocker rule(s) and the page will load as expected.