Carry On Girls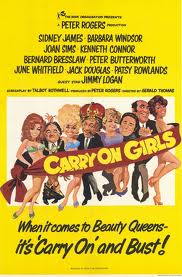 Director(s)
Gerald Thomas
Writer(s)
Talbot Rothwell
Release Date(s)
November 1973

Carry On Girls is the 25th Carry On film, released in Britain in 1973. The film is notable for being the first not to feature either Kenneth Williams or Charles Hawtrey. Williams was appearing in a West End play, My Fat Friend. Hawtrey had been dropped from the series the year before. The film features regulars Sid James, Barbara Windsor, Joan Sims, Kenneth Connor<, Bernard Bresslaw and Peter Butterworth. Patsy Rowlands makes her seventh appearance in the series. Jack Douglas makes his third appearance, this time upgraded to a main role. Jimmy Logan makes a guest appearance in his second and final Carry On.
Cast
Patricia Franklin as Rosemary
Brian Osborne as "Half a quid" citizen
Bill Pertwee as Fire chief
Marianne Stone as Miss Drew
Brenda Cowling as Matron
Zena Clifton as Susan Brooks
Laraine Humphrys as Eileen Denby
Pauline Peart as Gloria Winch
Caroline Whitaker as Mary Parker
Barbara Wise as Julia Oates
Carol Wyler as Maureen Darcy
Mavise Fyson as Francis Cake
Billy Cornelius as Constable
Edward Palmer as Elderly resident
Michael Nightingale as City gent
Hugh Futcher as "There's Fiddler" citizen
Elsie Winsor as Cloakroom attendant
Nick Hobbs as Stunt double
Ron Tarr as Bearded man
Ad blocker interference detected!
Wikia is a free-to-use site that makes money from advertising. We have a modified experience for viewers using ad blockers

Wikia is not accessible if you've made further modifications. Remove the custom ad blocker rule(s) and the page will load as expected.