Carry On Matron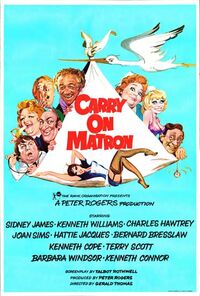 Director(s)
Gerald Thomas
Writer(s)
Talbot Rothwell

Carry On Matron is the twenty-third Carry On film. It was released in 1972. It features series regulars Sid James, Kenneth Williams, Charles Hawtrey, Joan Sims, Hattie Jacques, Bernard Bresslaw, Barbara Windsor and Kenneth Connor. This was the last Carry on... film for Terry Scott after appearing in seven films. Carry On Matron was the second and last Carry On... for Kenneth Cope.
Cast
Ad blocker interference detected!
Wikia is a free-to-use site that makes money from advertising. We have a modified experience for viewers using ad blockers

Wikia is not accessible if you've made further modifications. Remove the custom ad blocker rule(s) and the page will load as expected.