Carry On Nurse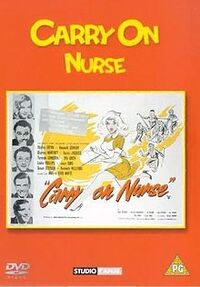 Director(s)
Gerald Thomas
Release Date(s)
March 1959

Carry On Nurse is the second Carry On film, released in 1959. Of the regular team, it featured Joan Sims (in her Carry On film debut), Kenneth Williams, Kenneth Connor and Charles Hawtrey, with Hattie Jacques and Leslie Phillips. The film was written by Norman Hudis based on the play Ring for Catty by Patrick Cargill and Jack Beale. It was the top grossing film of 1959 in the UK and - with an audience of 10.4 million - had the highest cinema viewing of any of the "Carry On" films. Perhaps surprisingly, it was also highly successful in the US, where it was reported that it played at some cinemas for three years.
Nurse
When Ted York (Terence Longdon) is admitted to hospital with appendicitis, he doen't know what he's letting himself in for. The nurses are naughty and nice - especially saucy staff nurse Dorothy Denton (Shirley Eaton) - and Matron (Hattie Jacques) is menacing. The patients meanwhile, get tired of waiting and take matters into their own hands, while Matron finds a novel use for daffodil!
Cast
Ad blocker interference detected!
Wikia is a free-to-use site that makes money from advertising. We have a modified experience for viewers using ad blockers

Wikia is not accessible if you've made further modifications. Remove the custom ad blocker rule(s) and the page will load as expected.