Carry On Regardless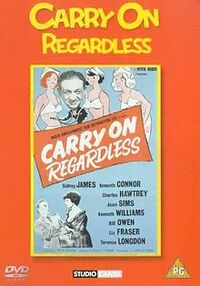 Director(s)
Gerald Thomas
Release Date(s)
March 1961

Carry on Regardless was the fifth in the series of Carry On films to be made. It was released in 1961. By now a fairly regular team was established with Sid James, Kenneth Connor, Charles Hawtrey, Joan Sims and Kenneth Williams all having appeared in previous entries. Hattie Jacques - who was also a regular - makes a cameo appearance during a hospital scene. "Professor" Stanley Unwin appears in a guest role, playing his trademark "gobbledegook" speaking act. This would be the final appearance in the series for early regular Terence Longdon. Liz Fraser makes her debut in Carry On Regardless and would appear in a further three Carry On films.

Regardless
There's lack of jobs at the Labour Exchange - so when an advent is placed in a national newspaper for handy helpers, the city's unemployed folk scramble to the office of the Helping Hands agency. The company is run by Bert Handy (Sid James) and his sidekick Miss Cooling (Esma Cannon). They specialise in undertaking anything for anybody, but will the new staff succeed in multi-tasking for London's millions?
Cast
Ad blocker interference detected!
Wikia is a free-to-use site that makes money from advertising. We have a modified experience for viewers using ad blockers

Wikia is not accessible if you've made further modifications. Remove the custom ad blocker rule(s) and the page will load as expected.