Carry On Screaming!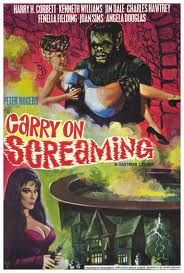 Director(s)
Gerald Thomas
Writer(s)
Talbot Rothwell
Release Date(s)
16 August 1966

Carry On Screaming is the twelfth Carry On film and was released in 1966. It was the last of the series to be distributed by Anglo-Amalgamated before the series moved to The Rank Organisation. It was originally rated in the UK as an 'A' (adult), it is currently rated 'PG' (parental guidance). Of the regular cast, it features Kenneth Williams, Jim Dale, Charles Hawtrey and Joan Sims. It also features Harry H. Corbett in his only Carry On and Fenella Fielding making her second and final appearance. Angela Douglas makes the second of her four Carry On appearances. Carry On Screaming is a parody of the Hammer horror films, which were also popular at the time, and follows a plot similar to that of the 1953 film House of Wax.
Cast
Ad blocker interference detected!
Wikia is a free-to-use site that makes money from advertising. We have a modified experience for viewers using ad blockers

Wikia is not accessible if you've made further modifications. Remove the custom ad blocker rule(s) and the page will load as expected.