Carry On Spying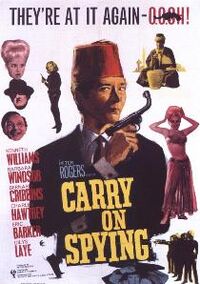 Director(s)
Gerald Thomas
Writer(s)
Talbot Rothwell
Sid Colin
Release Date(s)
June 1964

Carry On Spying is a 1964 film, the ninth movie in the Carry On film series. It marks Barbara Windsor's first appearance in the series. Series regulars Kenneth Williams, Charles Hawtrey and Jim Dale are present. Bernard Cribbins makes the second of his three Carry On appearances (although it would be 28 years before he returned). Eric Barker appears for his third entry (his final appearance would be in Carry On Emmannuelle 14 years later). Dilys Laye returns after her debut in Carry On Cruising. Carry On Spying is the last Carry On film shot in black and white.

Spying
Milchmann (Victor Maddern) does more than deliver milk when he strolls into high-security site and steals a top-secret formula. News of the theft soon reaches the Chief (Eric Barker) at Secret Service HQ, who calls up half-witted spy Desmond Simkins (Kenneth Williams) and three bumbling British agents to investigate. Will Simkins and his spying sidekicks recover the formula? Carry on Watching!
Cast
Ad blocker interference detected!
Wikia is a free-to-use site that makes money from advertising. We have a modified experience for viewers using ad blockers

Wikia is not accessible if you've made further modifications. Remove the custom ad blocker rule(s) and the page will load as expected.