Carry On Teacher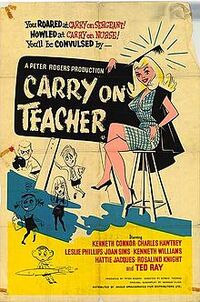 Director(s)
Gerald Thomas
Release Date(s)
August 1959

Carry On Teacher is the third Carry On film, released in 1959. It features Ted Ray in his only Carry On role, alongside series regulars; Kenneth Connor, Charles Hawtrey, Kenneth Williams and Hattie Jacques. Leslie Phillips and Joan Sims make their second appearances in the series here, having made their debuts in the previous entry, Carry On Nurse. A young Richard O'Sullivan and a young Larry Dann - making the first of his four Carry On appearances - turn up as pupils.
Teacher
William Wakefield (Ted Ray), headmaster of Maudlin Street Secondary Modern School, dreams of taking the top job at the new school, but the students have other plans. A visit from two education inspectors prompts the pupils to carry out a spree of practial jokes and hoaxes that scupper the head's chances. Can Wakefield and his silly staff put a to the student rebellion?
Cast
Ad blocker interference detected!
Wikia is a free-to-use site that makes money from advertising. We have a modified experience for viewers using ad blockers

Wikia is not accessible if you've made further modifications. Remove the custom ad blocker rule(s) and the page will load as expected.