Carry On Up The Jungle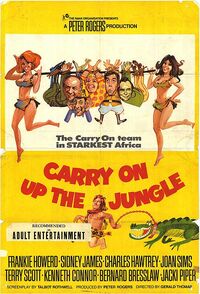 Director(s)
Gerald Thomas
Writer(s)
Talbot Rothwell
Release Date(s)
March 1970

Carry On Up the Jungle is the nineteenth Carry On film, released in 1970. The film marked Frankie Howerd's second and final appearance in the series. He stars alongside regular players Sid James, Charles Hawtrey, Joan Sims, Terry Scott and Bernard Bresslaw. Kenneth Williams is unusually absent. Kenneth Connor returns to the series for the first time since Carry On Cleo six years earlier and would now feature in almost every entry up to Carry On Emmannuelle in 1978. Jacki Piper makes the first of her four appearances in the series. This movie is a send-up of the classic Tarzan movies.
Cast
Ad blocker interference detected!
Wikia is a free-to-use site that makes money from advertising. We have a modified experience for viewers using ad blockers

Wikia is not accessible if you've made further modifications. Remove the custom ad blocker rule(s) and the page will load as expected.