Don't Lose Your Head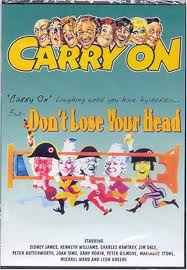 Director(s)
Gerald Thomas
Writer(s)
Talbot Rothwell
Release Date(s)
December 1966

Don't Lose Your Head (often incorrectly Carry On Don't Lose Your Head) is the thirteenth Carry On film (and one of only two not to have "Carry On" in the original title). It features regular team members Sid James, Kenneth Williams, Jim Dale, Charles Hawtrey and Joan Sims. French actress Dany Robin makes her only Carry On appearance in Don't Lose Your Head. It was released in 1966. Set in France and England in 1789 during the French revolution, it is a parody of Baroness Orczy's The Scarlet Pimpernel.
Cast
Ad blocker interference detected!
Wikia is a free-to-use site that makes money from advertising. We have a modified experience for viewers using ad blockers

Wikia is not accessible if you've made further modifications. Remove the custom ad blocker rule(s) and the page will load as expected.